;
Get a full dive in the best beaches in St. Barts
01-Jun-2020
It has been a learning and challenging season; the constant coming and going in our lives requires us to have a moment of peace, fun and activities that allow us to disconnect from our daily lives and recharge our energies to meet our next goals. Success is a constant process that requires all our concentration and effort, but we must give our body and mind a rest.
It has been a learning and challenging season; the constant coming and going in our lives requires us to have a moment of peace, fun and activities that allow us to disconnect from our daily lives and recharge our energies to meet our next goals. Success is a constant process that requires all our concentration and effort, but we must give our body and mind a rest.
One of the best ways to disconnect from routine is a trip to the beach; the benefits of the sea, sand, sun and sea breeze are countless for our body, skin and mind. The island of St. Barts in the Caribbean is the ideal setting to find corners where you can get a complete recharge accompanied by the spectacular views offered by the island and the mosaics of all the shades of blue offered by the Caribbean Sea.
We will give you a tour of the best beaches to visit during your stay in St. Barts, in addition to the things to do on the island's beaches to relax and have fun. We will also tell you about the exclusive benefits you can obtain by staying at Le Barthélemy Hotel & Spa.
Shell beach.
Shell Beach is one of the most popular beaches among many visitors, given its proximity to the city and port of Gustavia, on the west coast of St Barts. As its name suggests, the sand is full of small fragments of seashells that result in an interesting texture beneath your feet. The calm waters of this unique bay are ideal for young children and snorkeling. For the more daring, the area is very popular for cliff diving.
Being close to Gustavia, there are several restaurants, cafes and bars, lots of activity and things to do on this beautiful beach.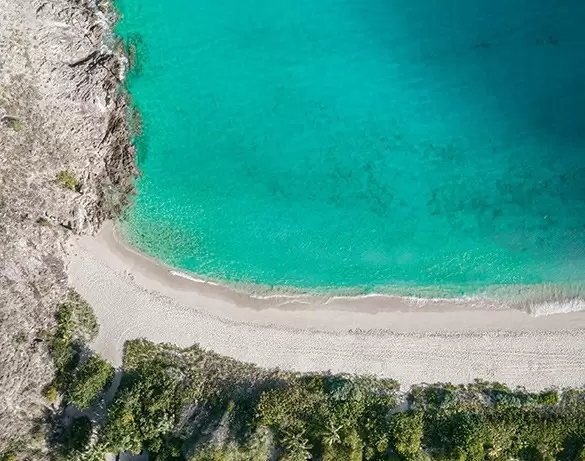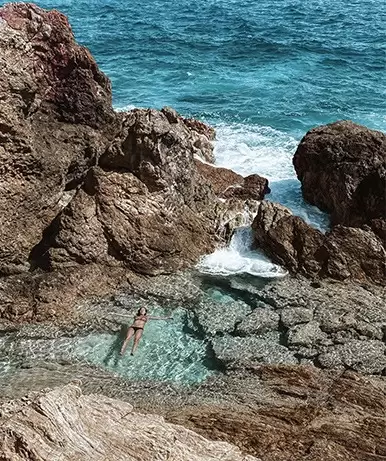 Flamands Beach
Flamands, north of St Barts, 3 miles from Gustavia, is one of the largest beaches on the island, its white sands are shaded by palm trees and are excellent for sheltering from the sun and relaxing in an authentic tropical atmosphere. Here the wind blows constantly, raising soft waves, ideal for body surfing or buggy boarding. Children can have fun building castles in the sand or snorkeling on the shore. If you come with your family, Flamands is an extraordinary option with things to do for all ages.
On the coast there are restaurants and bars that are a good option for a drink and a snack, so it is not a priority to bring your own, but it is your decision.
Grand Cul de Sac
The bay of Grand Cul de Sac is a wonderful place to unwind, with its crystal clear waters, white sand and beautiful landscapes, making it one of the the best beaches to visit. This peaceful bay east of St Barts is the perfect place to relax, a barrier reef stops any current and turns the sea here practically into a pool where you can observe the biodiversity of the Caribbean Sea; it is an excellent place to do some snorkeling and watch the colorful fish that swim around you. It is also a great opportunity to see turtles in their natural habitat; because of the calm of the bay it is very likely that you will encounter a turtle while enjoying your day at Grand Cul de Sac.
It is in this bay where Le Barthélemy Hotel & Spa is located, so when you stay here you can wake up and immediately put your feet on the sand to spend an incredible day with an enormous variety of things to do on this beach.
Due to the low number of boats, the bay of Grand Cul de Sac is excellent for adrenaline enthusiasts, as you can go for a ride on Jet Ski, perform crazy acrobatics on fly boards or sail the waters practicing jet surf. The winds here are ideal for kitesurfing, or to cross the bay at a fast pace while windsurfing.
All the necessary equipment is available for rent at the hotel facilities, as well as scuba gear to discover deeper waters, sea bobs for more dynamic snorkeling and discover new marine life. Boats also available both for fishing and touring the island for a unique point of view, available only at the sea.
You can also easily stay on the shore and let yourself be caught by the sounds and the soft breeze of the Caribbean. Aux Amis Plage is an excellent place to do this while enjoying a delicious snack and a refreshing drink.
St. Jean Beach
For most visitors to St Barts, this is the most popular and crowded beach on the island. Given its location on the north coast of St Barts and close to the Gustav III airport, many bars and beach clubs are set up on the sands of St Jean, making it a great place to party and quench your thirst. St Jean is divided in two by the iconic Rock Peninsula, but the vibe is just as pleasant on both sides of the beach.
Because of the wide and open sea area, beyond Rock, this beach offers a variety of activities, such as windsurfing, paddle boarding or jet skiing. You can also sunbathe and watch the arrival and departure of aircraft to the island.
Colombier Beach
At the northernmost point of the island, we find Colombier. A corner reserved for the more adventurous. It used to be a private beach owned by the Rockefeller family, so there are no roads to drive along to get to this beach. Because it is a little frequented beach, marine animals such as sea turtles or larger fish are less frightened and swim at will, so you can see them while snorkeling almost in total privacy.
To get there, guided walks are offered.It takes about 30 to 40 minutes to reach the beach. In the meantime you can enjoy and take pictures of the vegetation that will accompany you on the way. Or, if you prefer, Le Barthélemy Hotel & Spa offers you the possibility of taking you to the beach by boat, accompanied by a meal prepared by the hotel's chef, so that you can enjoy a chic picnic in Colombier and spend an unforgettable day enjoying the golden sands and delighting in the blue waters of the Caribbean.
Gouverneur beach
If you're looking for a quieter, less crowded place, Gouverneur is the perfect beach for you. South of St Barts, after descending a hill on a path lined with trees, bushes and palm trees, you will find Gouverneur, a quiet and contemplative haven. It is ideal for enjoying the blue tones of the sea as the day goes by. Its smooth waves and crystal-clear waters make it a beach for swimming and snorkeling, although remember to always keep an eye out for any increase in the waves, especially on the east side of the beach.
This beach is a little far from restaurants, so it's the ideal opportunity to have a delicious snack with the swaying of the waves as a soundtrack and the nearby islands as beautiful paintings on the horizon.
Natural Pools
It's not exactly a beach, but it's an adventure you must dare to live. In the cliffs of Petit Cul de Sac you will find a unique setting that will make you think that you really are in paradise. The constant lashing of the waves, over time has shaped some natural pools on the slopes of the hills, here you will find a beautiful green, in a beautiful contrast to the blue sea. This is a highly recommended experience and definitely one of the things you should not miss on your next visit to St. Barts.
Getting there is not a simple thing, it is only accessible by foot. Le Barthélemy Hotel & Spa has qualified guides to take you to this extraordinary place and do not miss an experience reserved for the truly adventurous.
More blogs.
All
Our Island
Our Hotel
Our Collection
Events