;
Treat yourself to our hotel Christmas dinner!
20-Dec-2022
2023 is just around the corner, and December is already here! As the year slowly but surely comes to an end, we are all getting ready for the holidays and preparing to start a brand-new chapter with big, bright smiles and on the highest note.
At Le Barthélemy, we are no strangers to parties and have joined many major events throughout the year, such as our Super Bowl special evening and our posh gastronomic summer deal to celebrate the warmest, longest days of the year. This season, of course, is no exception, as we have quite a few surprises up our sleeve, ready for you and your loved ones to enjoy to the fullest.
Join us as we review our exclusive hotel Christmas dinner and the tasteful New Years' menu we have in store for you.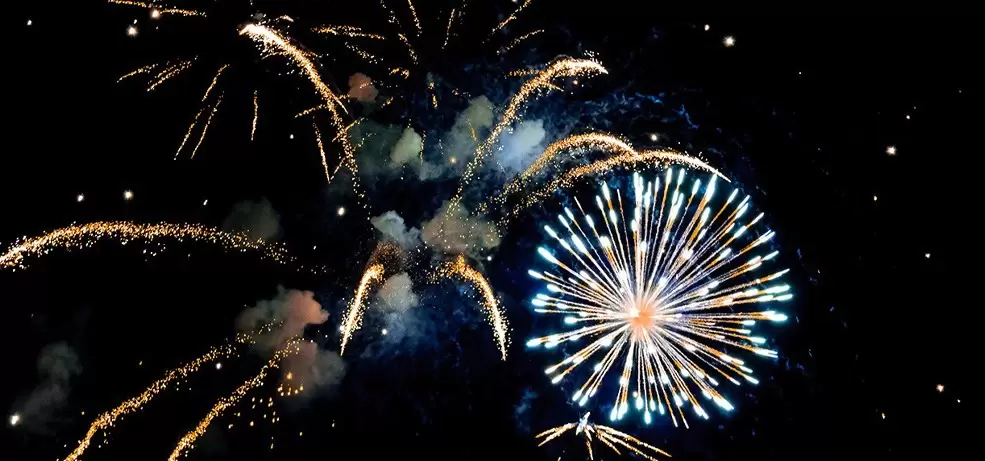 Our delightful hotel Christmas dinner
This past 2021-2022 season, our lush partner restaurant Amis St. Barth was the apple of everyone's eye, showing off its dashing good looks inspired by nature and the fusion of a Mediterranean-Caribbean style carefully designed and curated by a beyond-talented team.
This Christmas, on December 24, Amis joins the festive spirit with a five or seven-course menu filled to the brim with flavor, color, and tradition.
For starters, a special KYS oyster from Bretagne, with lemon and seaweed granita to awaken your senses and set the mood for an incredible evening. Then, a crumble crab bavaroise with gold imperial Casparian caviar, a delightful second and just as delicious.
To jump onto something a little bit more along the lines of the main dish, exquisite foie gras ravioli, with artichoke and Périgord truffle, enhanced with a drop of Leclerc Briant champagne. Later on, a confit gravlax salmon with genevoise sauce, vanilla butter, and marrow toast.
To keep the tasteful experience going, a bresse poultry stuffed with lobster, topped with head juice vegetables of yesteryear, and afterward, a Cancoillotte truffled lukewarm potato.
Finally, of course, and in true festive fashion, a Mont Blanc yule log marron glacé, vanilla. Bon appétit!
Read all about our exclusive hotel Christmas dinner menu right here.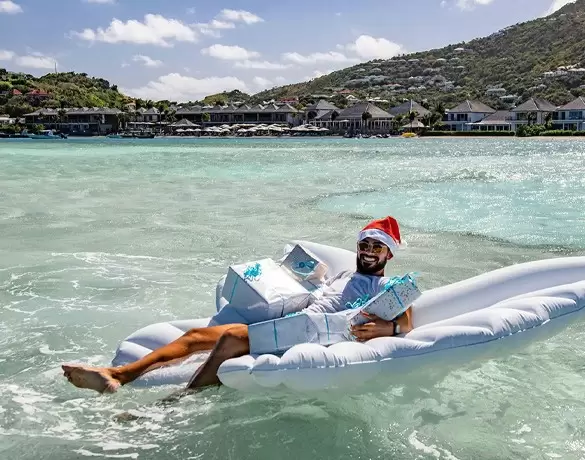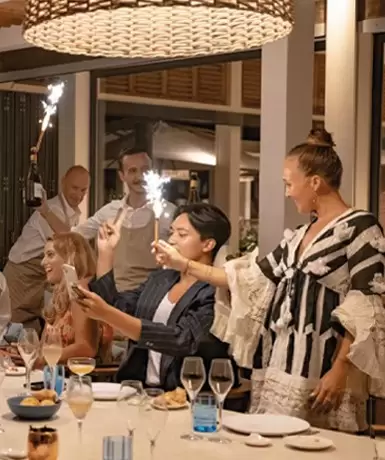 A toast to a brand-new year!
On December 31, celebrate the arrival of 2023 with a seven-course dinner carefully designed by Executive Chef Vincent Gomis, Amis St. Barth main food artist, followed by the iconic party on the W.T.F Rooftop to count down to midnight!
To begin with and as an homage to our beachfront destination, a delicious sea urchin shell with coconut-lime foam. Then, to keep the tasteful seafood mood going, a crispy lobster bisque sauce emulsion refreshed with verbena for that je ne sais quoi special touch.
To get deep into the night, scallops in a shell gratinated with Leclerc Briant champagne and an exquisite mel
anosporum truffle. Later on, delight your senses with a wild turbot, lemon butter beated, Arcachon's shellfish with gold Imperial Casparian caviar.
As the evening slowly comes to an end, a demi-deuil Bresse Poultry with albufera sauce and puffed potatoes, and afterward, a mont d'or with yellow wine Potato from Noirmoutier, grated truffle.
Finally, before moving on to the unmissable W.T.F. countdown, a grand cru chocolate soufflé tart with cocoa grué, and Alba truffle.
If this New Years' menu sounds like something you would thoroughly enjoy, read all about it right here.
St. Barts is getting ready to celebrate Christmas and welcome 2023 in style, and so are we! So, feel free to join us and taste the holidays at Le Barth.
More blogs.
All
Our Island
Our Hotel
Our Collection
Events