;
Exclusive Luxury Yoga Retreat at Le Barth
09-Dec-2020
It's always good to find a moment to meditate within ourselves and bring our mind and body into the same tune. Le Barthélemy Hotel & Spa, presents the best way to find your balance in a luxury yoga retreat in St Barts.

St Barts, a unique yoga destination
Inhale and exhale, close your eyes deeply while you find your energy center. You are in your joyful place, white beaches, crystal clear waters, warm and peaceful. Breathe and feel the wind brushing your skin, just listen to your breath and the song of the seabirds. Everything seems like a dream inside your mind, right? St. Barts, in the French Caribbean, is just the place we described.
All over the island you can find amazing places to meditate and practice yoga, but doing it in the area of Grand Cul de Sac, is an experience that can't go unnoticed as The Yoga destination. Beyond imagining the experience, it is something you have to live; peace and harmony in the ideal environment to put your body in shape and your mind in balance.
On the northwest coast of St Barts, away from the busiest areas of the island, Le Barthélemy Hotel & Spa, presents a luxury spa retreat like no other on the island. Introducing our yoga classes by Anouka, an expert in holistic training with experience in courses and workshops around the world, now exclusively with Le Barthélemy. Together we seek to build a wellness retreat concept that is unique in the world.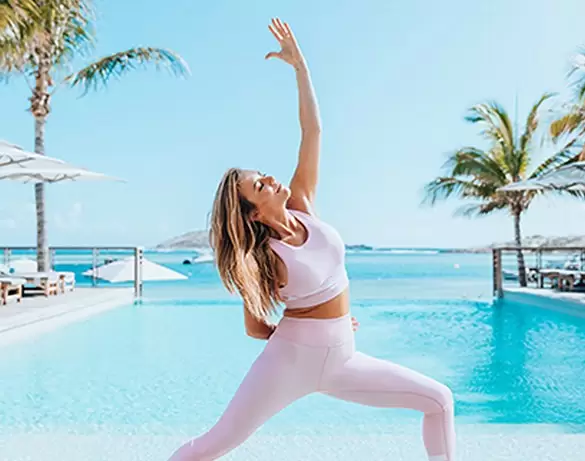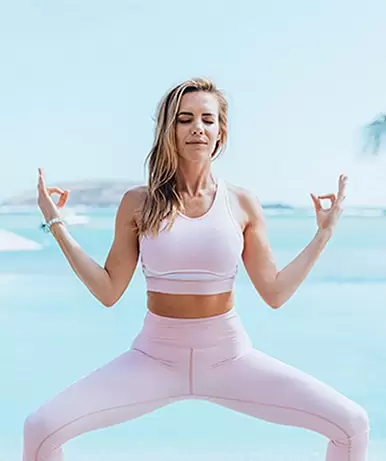 Le Barthélemy & Anouka, the perfect match for yoga classes in St Barts
In the search to consolidate our concept of Le Barthélemy Yoga & Wellness, we could not have chosen a better partner than Anouka. We provide the atmosphere and service, she puts her knowledge and serenity at the service of our clients. From semi private groups to private yoga classes in St Barts, choose the best option for your wellness retreat.
Her journey in the search for the perfect balance between mental energy and physical strength has taken Anouka all over the world to achieve a mastery in the teaching of yoga, which we are proud to share with you. With a passion for teaching in the forms of Vinyasa, Yin & Yang and Morning Flow Yoga, we are pleased to put the best place for your classes in our space with a beautiful view of the waters of Grand Cul de Sac. If you would like to know more about Anouka's credentials, we cordially invite you to review her website.
Morning Flow Yoga Classes
Hand in hand with Anouka, start your day with movements inspired by the flow of the Ha (Sun) and the strength of keeping your body in position with elements of the Tha (moon). A flow of dualities to strengthen your body in the positions and exercise your mind through breathing. Every Monday at Le Barthélemy at 7:30am to 8:30am.
Yoga classes are given only with previous reservation. We limit our capacity to have semi-private classes of no more than 6 people. You can review our health protocol at the following link. The well-being of our clients is our main concern.
Vinyasa Yoga classes
Combine a variety of asanas as your body flows to keep your muscles healthy and where they need to be. Dance with cadence keeping the body moving and increasing its flexibility. Suitable for beginners and advanced every Tuesday from 7:30 am to 8:30 am.
Yin & Yang Yoga clases
A concept of Taoist origin; two opposite forces, but complementary to each other. The form of Yoga to reach an energetic balance that combines asanas to keep the body in movement and in a static position. Perfect for the health of your immune system, attracts emotional stability and health of your internal organs. Available at Le Barthélemy Hotel & Spa, every Wednesday from 4:30 pm to 5:30 pm
Establishing the best choice for a yoga and wellness retreat
With our commitment to the excellence of our customer service, we are attentive to meeting the evolving needs of our guests. We have found that more and more of them are looking for a wellness retreat, so it is our mission to provide it.
We take into account the privileged place in which our facilities are located, between the bay and the lagoon of Grand Cul de Sac, so our clients can choose where to take their yoga classes, from a beach front Yoga class to a private Yoga room, we offer you a couture and tailor-made service. Guests, tourists and residents of St Barts are welcome to our Yoga program.
When booking your class with us, everything you need will be included to make it a relaxing time for you: from your yoga mat to refreshing detox drinks and specials at Le Spa.
Now you have the right information for your next wellness retreat, don't wait any longer and book at Le Barthélemy Resort & Spa and enjoy our current offers and make St Barts your next holiday for a beachfront yoga retreat.
More blogs.
All
Our Island
Our Hotel
Our Collection
Events