;
How to spend 7 days in St. Barts, by our Haute Couture Concierge
12-May-2023
Couture Hospitality: That's our philosophy at Le Barthélemy, with a personalized concierge service that focuses on you, to give you a unique and unforgettable experience during your stay in St. Barts. Our Haute Couture Concierge is a true expert on the island of St. Barts. With the passion of its members for travel and their strong knowledge of the island, discovering a unique and ideal stay in St. Barts. Here is their complete guide to 7 unforgettable days on St. Bart's, carefully designed to enjoy the island to its fullest.
Day 1 – Colombier & Flamands
Both Colombier and Flamands are well-known St. Barts beaches, located around the northern region of the island. To start your ideal stay with the right foot, our Conciergerie arranged a perfect day indulging in white sands and sparkling blue waters. First, have breakfast at la Petite Colombe Bakery and indulge in delicious local pastries. Afterwards, enjoy a swim in la Petite Anse, a hidden little bay ideal to relax and revel in the ultimate privacy in Flamands. You may also enjoy a hike on your own or with our guide to the aforementioned famous Colombier Beach, to snorkel with turtles and discover other local fauna, such as starfish and coral. After that, enjoy a chic picnic prepared by our very own Chef, and stay for a magical sunset in Colombier with a 360° view of both beaches. Finally, dine at Amis St. Barth and enjoy a fabulous wine tasting experience paired with some gourmet tapas by Chef Vincent Gomis.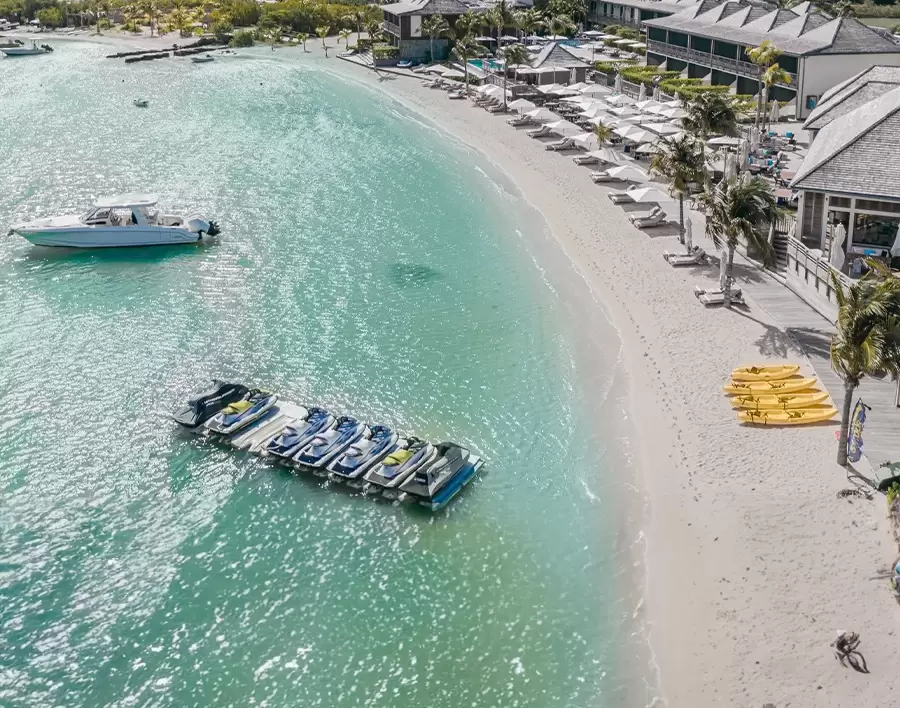 Day 2 – Lorient & Saline
On your second day, opt to keep on discovering the island's beautiful beaches and experience its delicious culinary expertise. Begin the day with a relaxing yoga class at Le Barthélemy Hotel & Spa, with a beautiful view of the Grand Cul-de-Sac's bay as your backdrop. Later on, indulge on a morning swim at Lorient Beach, and watch the surfers in one of the most famous surf spots of the island. You may also discover our creole cuisine and spices with a local BBQ lunch and enjoy a walk in le "Ti Marcher," the one and only local market offering local fruits and vegetables from around the Caribbean. Afterwards, head to Saline Beach and either sunbathe or climb the sand dunes to the bay. Saline is a great place to explore a bit of the island's history, since it's where salt marsh used to be harvested. Finally, end your day by treating yourself to a La Mer facial at Le Spa, and unwind in our relaxing Nordic baths.
Day 3 – Grand Fond & Petit Cul de Sac
On your third day, thrive in the water. The options are endless: discover the natural pools in both Grand Fond or explore the lagoon and enjoy all the watersport options available at Le Barthélemy, for you to enjoy the beautiful St. Barts beaches. Take a morning hike to the Grand Gallet Beach of Grand Fond, and discover the secluded natural pools with waves breaking softly on the rocks, offering a peaceful and refreshing salted bath. Later on, enjoy a lunch al fresco at Amis St. Barth, right on the beach with your feet in the sand. Vegan options are available to satisfy all our guests. Spend the afternoon at Le Barthélemy, diving & thriving with our watersports, or paddling along the lagoon on a glass bottom kayak or a giant paddle board. Discover turtles, rays, sea urchins and our local conch "Lambi" in Grand Cul-de-Sac. In the evening, enjoy a sunset boat excursion departing from the hotel in our private yacht to watch the beautiful sunset on Fourchue Island with a glass of Champagne in hand.
Day 4 – Gouverneur & Gustavia
Split your fourth day between the heavenly Gouverneur beach, with its smooth waves and crystal-clear waters, and the city life at Gustavia, shopping to your heart's content. Indulge in a morning swim at Gouverneur, one of the most beautiful St. Bart's beaches. Later, head to Gustavia and walk around to see fishermen's houses and the famous wahoo, tuna or mahi-mahi local catches of the day. Spend the afternoon on a sea bobs excursion in Shell Beach and discover the incredible underwater world; the perfect place to pick up shells to bring home as a souvenir. Afterwards, treat yourself to a post-beach shopping trip in Gustavia's most luxurious shops. Finally, climb on the famous Fort Carl stairs to watch the sunset from the top of Gustavia, for a stunning view of Shell Beach.
Day 5 – St. Jean
Of course, you can't leave without visiting St. Jean, the most popular of the St. Barts beaches. Spend a wonderful last day letting the Caribbean vibes take over. Start the day with breakfast and a view at Amis St. Barth, followed by a windsurfing lesson in the local Carib Water Play at St. Jean Bay. Walk on the St. Jean Bay and watch airplanes and helicopters taking off and landing by the sea at Rémy-de-Haenen St. Barts' Airport. Then, head to la Creole shopping area and peruse cute beachwear and local boutiques. Take a tennis, beach tennis or archery lesson at the St. Jean Sports Center, and end the day with a sunset walk at the St. Jean lake pontoon.
Day 6 – Pinel
Start your sixth day on the island with the right foot, enjoying breakfast in the privacy of your room. Savor our benedict eggs and French toast, with a delicious cappuccino as you get ready for the rest of your day. Then, depart from Gustavia on a catamaran towards the Pinel private island in St Maarten; Feel the breeze on your face and welcome a healthy tan on your skin. Eat a delicious lunch with the freshest lobster BBQ along with a typical Caribbean planteur cocktail on this unique tiny island. Then, admire a breathtaking sunset on your way back to St. Barts and be surprised by sea turtles, swiftly swimming around your ship. Later, enjoy a romantic dinner on your private patio at Le Barth.
Day 7 – Helicopter
On your final day, pamper yourself at Le Spa. Relax and soften your skin naturally in the sauna and hammam. Treat yourself to a fully revitalizing experience. Then, enjoy an unforgettable helicopter tour to discover the island from above; be amazed by the reefs and the natural beauty of the island. Finally, rest on your long chair around Le Barth infinity swimming pool, savor a cocktail, and listen to some music under the water. If you're looking for a carefully crafted stay, put your faith in Le Barthélemy Hotel & Spa's concierge services. We'll tailor a holiday suited to you, so you can sit back, relax and enjoy your getaway.
More blogs.
All
Our Island
Our Hotel
Our Collection
Events