;
Le Barthélemy Hotel & Spa has reopened for you
28-Oct-2020
Finally, the wait is over. We are thrilled that October 28th has arrived and with it the reopening of Le Barthélemy Hotel & Spa, looking forward to receiving our fabulous guests. We know you are as excited as we are, and we are ready to welcome you back to St Barts Caribbean haven.
Below, let us tell you everything we have for you and how we have prepared during these months to enhance your experience in the voted Best Island of the Caribbean & Atlantic destination. We have prepared deals that you won't be able to resist, to thank you for your patience in waiting during this time to visit us. We also tell you about the measures we are taking to ensure your well-being, which is the number one priority for our team at Le Barthélemy Hotel & Spa.

Awarded best Caribbean Resort in the Caribbean
Thanks to your unwavering support, Le Barthélemy Hotel & Spa, a member of Small Luxury Hotels of the World, has been recognized with the most prestigious awards in 2020. Our dedicated team is grateful for its wonderful guests and promises to keep offering you a once in a lifetime experience while you stay at Le Barth, a couture hospitality experience.
Today, Le Barthélemy is recognized as the #1 Resort in the Caribbean and among the Top 15 Best Resorts in the World in the 33rd annual Condé Nast Traveler Readers' Choice Awards, voted by over 715,000 readers, the award is the longest-running and among the most prestigious recognition of excellence in the travel industry.
Le Barthélemy Hotel & Spa has also been voted the #1 Hotel in St. Barts, and made the selective lists of the Top 10 Hotels in the Caribbean and Top 100 Hotels in the World by Travel + Leisure World's Best Awards 2020.
Adding to these renowned awards, thanks to the fabulous reviews and wonderful opinions Le Barthélemy Hotel & Spa has also received Trip Advisor's most prestigious recognition, TripAdvisor's Traveller's Choice award as Best of the Best 2020 in the categories of Best Luxury Hotel and Best Hotel in the Caribbean.
"To be recognized as the best among a community of truly remarkable properties [...] is a testament to our team, their passion and pride of craft,
We will carry this honor with us, reaffirming our commitment to our own human-centered 'couture hospitality', and seeking to continue to earn our place as the best every day and with each and every guest."
–Marc Dobbels–
Managing director of Le Barthélemy Hotel & Spa
If you want to know more about the awards we have received, we invite you to check out our awards showcase and discover that Le Barthélemy Hotel & Spa, the best resort in the Caribbean is your best option for an unforgettable experience in St. Barts, best island in the Caribbean & Atlantic. and in the Caribbean.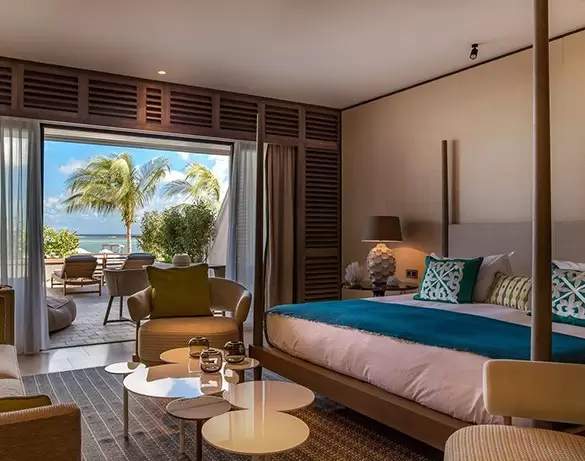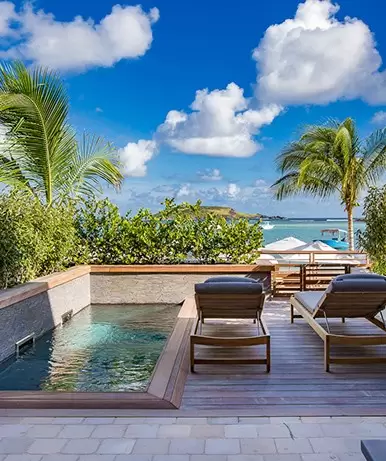 We will do all to make you fall in love with St. Barts
In addition to our commitment to excellence & couture hospitality service for our beloved guests, we are willing to go one step further and provide the best incentives for our guests to enjoy a relaxing and wellness experience like no other in the Caribbean as we reopen.
Among these incentives, come to Celebrate Together our reopening by our side from October 28th to December 20, 2020: by booking two nights or more, we give away a third night. Enjoy your private paradise within the resort facilities. You can review the benefits that this offer has on our website.*
In partnership with Tradewind Aviation, we offer a glamorous getaway to St. Barts on a direct charter flight to Gustaf III airport. When you book 5 or more nights at Le Barthélemy, the cost of getting to St Barts via Tradewind will be refunded to you in resort credit to be spent on what you love the most. If you take this opportunity, in addition to the delights and excellent service that characterizes us, you will have exclusive access to the Watersports, Fitness Center and the most relaxing services at Le Spa. We want you to have an integral experience of physical and spiritual well-being.*
You can also Check In & Stay Forever with us, at home, at Le Barth, receiving special discounts from now until August 31st 2021, when booking a stay for a minimum 10 nights, receiving a complimentary rental car and many more benefits during your stay.*
Or you might as well enjoy an Ultimate Escapism, arriving in style by private jet in partnership with Tradewind Aviation, relaxing in your quiet enclave with an oceanfront private plunge pool and gliding over the turquoise waters at sunset in your very own luxury yacht.*
We recommend you to check our offers, and be aware of all the exciting incentives we have for our guests & clients. We are really excited about our reopening and being able to provide an unforgettable experience in this Caribbean destination.
*See Terms & Conditions
Your Wellbeing is Our Everything
Besides the immense joy we feel by receiving our distinguished guests again, we are also aware that many of you are concerned about your well-being. We can assure you that the health and well-being of our guests is our number one priority and during this time we have prepared ourselves to offer all the hygiene & sanitation measures and protocols that will allow our guests to enjoy their stay in St. Barts.
We implemented paperless Check-In and Check-Out, managed through your personal mobile device, from which you can also access the menus of our restaurant Aux Amis.
We make sure to follow all the regulations recommended by local, national and international authorities: constant sanitization of surfaces, respect for the distance between people, use of protective equipment by our staff, availability of hand sanitizer in all public areas of the hotel and many others that you can check in our commitment.
Le Barthélemy Hotel & Spa, is a real haven of peace, freedom, space, cocooning and privacy becoming your own oasis of well-being and relaxation. Le Barth Team & St Barts Island are ready to welcome you again for unique Caribbean getaways.
More blogs.
All
Our Island
Our Hotel
Our Collection
Events