;
Super Bowl Hot Dogs & Beer, our Valentine's Day restaurant dinner and more: February at Le Barth!
10-Feb-2022
February has always been a pretty eventful month. In many countries, it is known as the month of love and friendship, since the 14th is Valentine's Day, a worldwide festivity that is all about celebrating our bonds with each other, both romantic partners and Platonic companions.
It is also known as the pre-party to spring, where winter slowly fades away and the vibrant colors return to nature. Even if spring-cleaning and shopping are still a few weeks away, the fresh air of a new season is always warmly welcomed and welcoming. Like turning on a new page.
Particularly this year, February will also be the Super Bowl month, with the legendary championship taking place on the 13th: the perfect opportunity for a get together with friends and tasteful food, with a great sport and incredibly talented entertainment.

Enjoy the Super Bowl at Le Barth's Rooftop Bar
As you most likely already know, the Super Bowl is the annual championship of the National Football League. It is a huge event that rewards and recognizes the hard work of the football players, and also celebrates their sportsmanship with an event like no other. Every year, the Super Bowl Halftime Show is talked about for weeks and weeks, both before the event and after it is done.
This year, the Super Bowl will take place on February 13, at SoFi Stadium in Los Angeles; transmissions of the face off between the Los Angeles Rams and the Cincinnati Bengals will begin around 6:30 p.m. ET, and it will last three and a half hours, approximately. Its halftime show will feature huge personalities: Snoop Dogg, Dr. Dre, Mary J.Blige, Kendrick Lamar and Eminem. An unmissable event for sure! And if you are more than ready for one of the biggest sport events every year, we are happy to let you know that so are we with our special Super Bowl restaurant menu.
In true American fashion, our Super Bowl restaurant menu consists of a Hot Dog & Beer afternoon and an evening party at our Rooftop Bar for you and your friends to enjoy the most important sports event of the year in a Full HD, big screen and have a blast. We for sure don't know who will win the championship, but we do know that with us, you will have an amazing time regardless.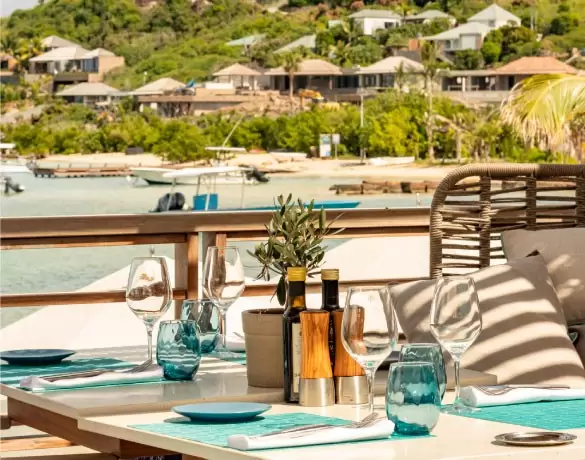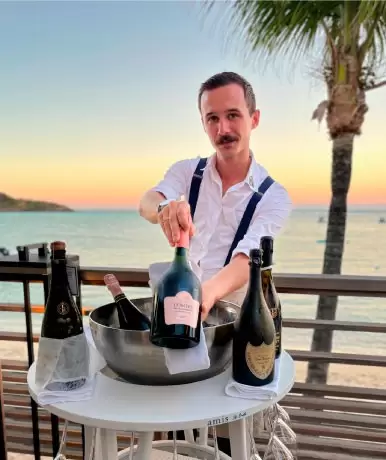 Valentine's Day restaurant dinner at Amis St. Barth
We certainly should celebrate love every day: it is one of the most beautiful emotions humanity has within its range, and has inspired breathtaking masterpieces, paintings, melodies and poems, but it is also true that there is something quite special about Valentine's Day.
Just like eating a cake any day is not the same as eating a cake on your birthday, or that getting flowers on an average Tuesday pales in comparison to getting flowers the day you graduate, this Valentine's Day can be unforgettable. Picture a romantic dinner on a beachfront setting, soft music in the background and exquisite food with all the right touches. The perfect date, right in paradise.
In order to celebrate romance, we have prepared a special Romantic Dinner for you and your significant other to indulge in, at Amis St. Barth, our recently renovated Mediterranean-Caribbean restaurant.
Delight yourself with a palm heart, with vegetable bortsh and either a bar in fine brioche, spinach, saffron rice & lemon-beaten butter or a beef Wellington to share, of course. Then, enjoy rum baba and passion fruit, for two. Of course, all of this may be accompanied by a delicious drink and the best atmosphere. Dig in our Champagne and Cheese trolleys and experience tastes you never imagined before; have a unique evening, a promise of the extraordinary at Amis. St Barth, with a tasteful Valentine's Day restaurant dinner.
Full Moon Party in the Caribbean
A Full Moon Party is a nightly beach party that takes place on the night of, before, or after a full moon. At Le Barth, we are preparing a Full Moon White Party, with a special Caribbean topic, for you to enjoy and welcome the very first full moon of the month.
Sip your drink while dancing around in the sand, and watch the tide kiss the shore as you admire the beautiful satellite that creates those same waves. After a wonderful Super Bowl restaurant menu on Sunday, and a romantic Valentine's Day restaurant dinner, trust us to deliver a wonderful Full Moon White Party on February 16th.
Additionally, each Wednesday after 6:00 p.m., you can revel in a special after work afternoon with live music, refreshing cocktails, delicious tapas and free parking, so you don't have to stress over anything and can let go completely. Relax by the beach and enjoy yourself.
Let your February 2022 be an unforgettable month, spent jumping from celebration to celebration in one of the most breathtaking Caribbean destinations ever.
More blogs.
All
Our Island
Our Hotel
Our Collection
Events