;
Le Barth is getting greener by the minute!
06-Jun-2023
We have always felt like aquamarine blue is our color. It reflects the beautiful, clear waters of the bay and the calming atmosphere that embraces the island all year round. It has accompanied us ever since we opened our doors in 2016. But another color has always accompanied us since then.
Green. The color of natural beauty, of freshness, and abundance, and hope. Rebirth and renewal.
The color of the future.
It is no secret that we pursue being a green hotel. We firmly believe that a better future is in store, as long as all of us put a little bit of effort into it. And we have put in a lot of effort, helping the environment with every action and decision, and committing to the island's society, culture, and historical heritage more than ever since we opened in 2016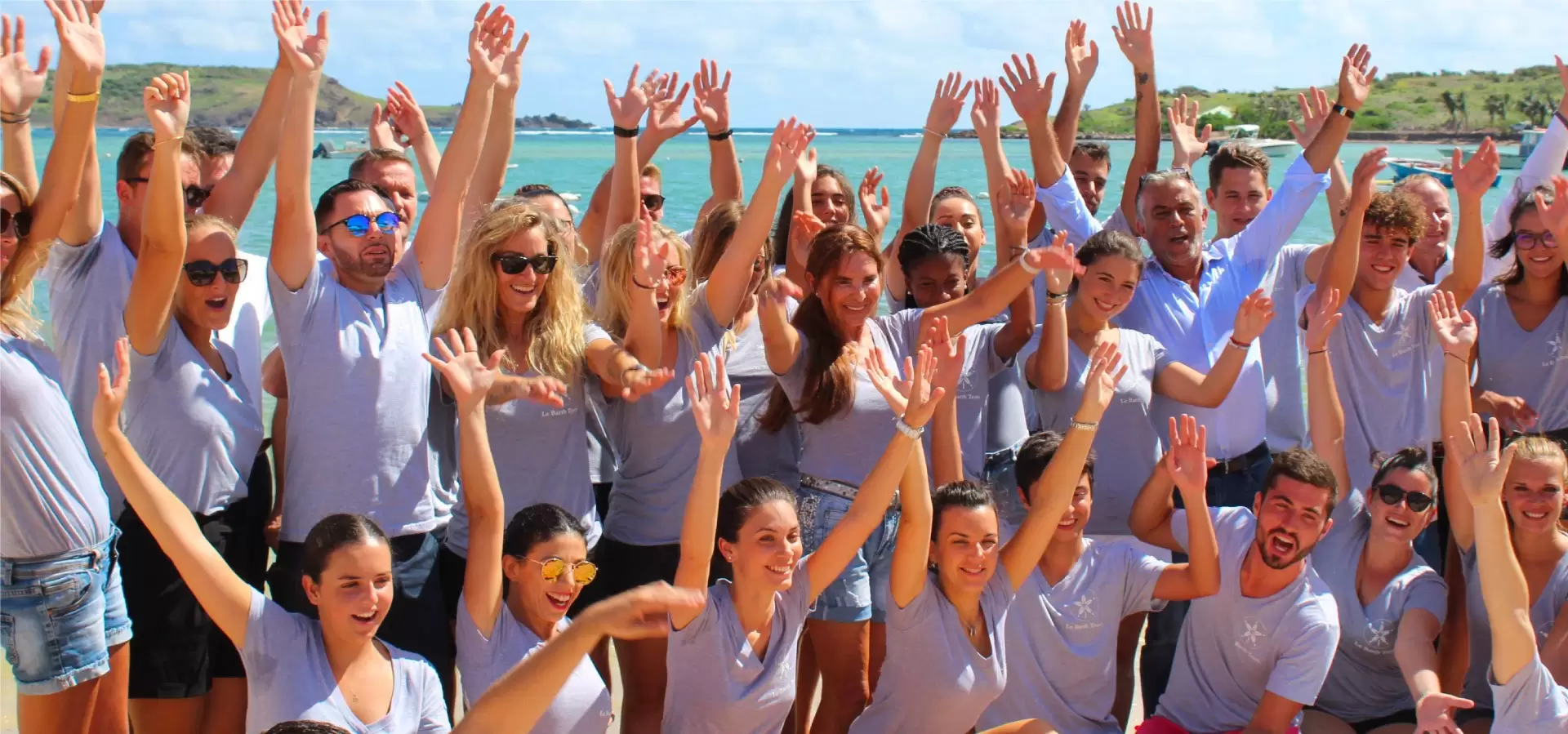 Environmental Commitment
St. Barth is an island where biodiversity is a major asset. Its weather and geographical location result in a fortune of flora and fauna that coexist in a delicate and beautiful ecosystem.
All of us at Le Barthélemy are well aware of this reality since the hotel's grand opening in 2016. Everything we do is surrounded by a deep respect of the island and its biodiversity. For instance, within our spaces, all the materials that were used to build the hotel in 2016 and rebuilt after Hurricane Irma in 2017, were chosen as they have a low environmental impact, as they are raw products, not transformed; natural products blending seamlessly in our Caribbean haven
Important decisions were taken at the opening, and the comfort of our client was always one of our priorities. For this reason, the hotel's linen is made in France with eco-responsible cotton, and a thorough and honest communication with our clients has allowed us to reduce our laundry work by 20% between 2016 and 2021. In-room gifts are recyclable and eco-responsible. 60% of the amenities are from an ethical and environmentally friendly label. We have burlap bags and recyclable, 100% compostable packaging since 2019.
We also use eco-certified laundry products, and have done a 60% reduction in the use of household products between 2016 and 2020 (room cleaning), to turn the rest into eco-certified products. Room and office garbage goes in maize bags. Within the bathrooms, both sinks and showers have bathroom aerators to reduce water consumption, as the European legislation requires.
Ethical Kitchen
At Amis St. Barth, we have vegan and veggie menus cooked with local products and since 2018, we work on tending towards a 0 waste cooking by, for example, reusing peelings to make juices or sauces. All the food in the restaurant is of ethical roots and prepared with a virtuous, humane process that ensures a low impact on the environment
We've changed our To-Go packaging in 2019, it is now made from recycled materials, in order to use less plastic material in our hotel. We have cups and straws of eco-responsible, low-impact, recycled paper, and with Amis St. Barth's opening in 2021, we've acquired new, innovative cuisine equipment to save more energy in gas and electricity while cooking. We also have selective storing.
Social Commitment
We believe in the strength of a tight community. A society that grows together and works together is a reflection of the most noble traits of human nature. Being a green hotel is about understanding this as well.
Since our opening in 2016, we have supported St. Barth's local companies and associations by only working with local partners and consuming mostly local products. For example, we cook with fresh fish from fisherman in the bay (100% local & fresh), and use local Mahi-Mahi eggs to make homemade tarama. While it is true that the island's soil is not optimal for agriculture, we still believe that the hard work of the locals results in wonderful raw matter that can be transformed and thoroughly worked with.
Le Barthélemy has also supported St Barts' culture for 6 years now. Throughout the years, we've engaged and organized many events in order to support local artists and the culture of the island. We thrive in visualizing and creating spaces for the appreciation of local talent.
For instance, every year since 2016, Le Barth participates by donating and helping through local sponsorships in events such as the Annual Classical Music festival, Catacup boat race, Schools of St. Joseph in Lorient and public School of Gustavia, and for associations like St Barth Chess, St Barth Pétanque, St. Barth Crossfit, St. Barth Semi-Marathon, Barracuda Rugby St. Barth, and Project Raid Amazon.
During the Covid crisis in 2020, we hosted a Red Cross group's luncheon during peak covid crisis, and also a night and breakfast for Ehpad residents when Ehpadburnt.
This year, of course, will be no exception. We already contemplated a lunch at Amis Plage with an Ehpad resident and a breakfast at the Ehpad, prepared by our Chef. We will also provide a cocktail for all the artists and sponsors of the Festival of Music at Amis St. Barth.
Cultural & Historical Commitment
Of course, a huge part of sustainable development is the respect and consideration of the historical and cultural roots of the place one is in. St. Barth, in this case.
Here at Le Barth, everything is thought around the island: from our logo, made with the iconic Sand Dollar, to the amenities in the rooms and structure of the hotel, with its roof and framework.
The Flora and Fauna of the hotel's gardens are also exclusive from the Caribbean, and so the hotel's storytelling has been written to promote the assets of the island, enhanced in the carefully thought design of Le Barthélemy.
International Commitment
Being truly sustainable and ethical is about supporting your local community as much as supporting your international community. Because as we all live on the same planet, we are all in this together.
Thus, since 2016 we've been collaborating internationally with multiple causes, associations and organizations.
In 2018, we made a donation to KFFL in "A Toast to Literacy", an initiative that focuses on purchasing new books for children in low-income communities; the Clatterbridge Cancer Hospital, and the Jordan Pruden Trust Fund and Claire House Children's Hospice.
In 2019, we donated to the Boston Medical Center and Brigham Hospital, and the American Heart Association in Atlanta, towards the research around cardiovascular disease and stroke.
In 2020, we provided life-changing therapy, prevention education, and wellness services to children through the Richstone Family Center and in 2021, we collaborated with the Foundation for Doctors Abroad, Little Baby Face, The Boy and Girls Clubs of America in partnership with Voyage By Pascale tour operator.
All of this is, of course, only a minuscule fraction of all the actions and decisions that we have made in our pursuit of a greener future. We have many ideas as well, soon to be implemented, but as becoming a green hotel has been a journey and will most certainly continue to be one, we would like for you to accompany us in it.
Stay tuned to read more about Le Barth's green adventure in the upcoming months!
More blogs.
All
Our Island
Our Hotel
Our Collection
Events